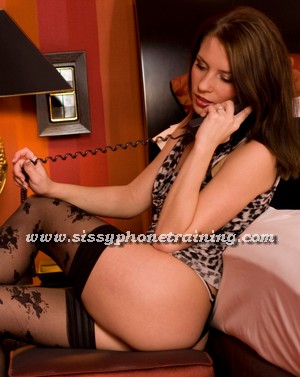 Do you have a sexy girl hidden deep inside of you aching to be set free? Our sissy phone Mistresses are experienced with every aspect of sissy training from teaching you how to walk in high heels to how to properly suck cock.
There are many sissy phone sex sites and you've probably called many of them and been disappointed. But you won't find the "one size fits all" approach to sissy training here.
We understand that every sissy is an individual and your training will be customized to your needs. Maybe you just want to explore your feminine side and become the girliest girl you can be. Maybe you need a sissy Mistress to push your submissive limits with sissy maid training or sissy cuckold humiliation. Or maybe you're a wanton sissy slut at heart, dreaming of being pimped out by your sissy phone Mistress. We are experienced Sissy Trainers and genuinely enjoy all kinds of sissy training and sissy fantasy including:
Forced feminization
Sissy slut training
Sissy humiliation
Strap on training
Sissy maid training
Sissy cuckold
Crossdressing
Sissy assignments
Sissy spanking
Gloryhole service
Panty boys
Make up and clothing advice
Ready to begin? There's always a Mistress available, 24 hours a day. Call now and let's begin your sissy phone training!