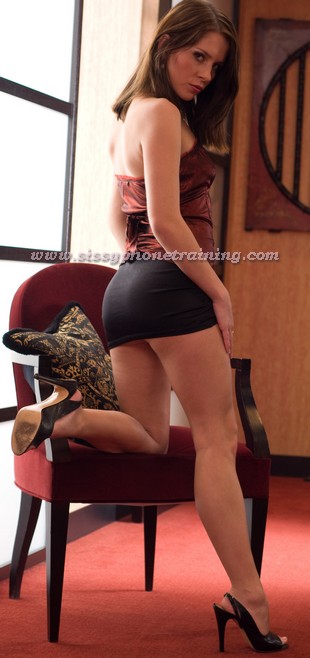 When I had my first experience with forced feminization, I'd never even heard of sissy training. I was just operating on my own inborn femdom instincts.
I was in my first year of college, new to domination and walked in on my boyfriend unexpectedly to find him wearing panties and masturbating. He almost shrieked in panic and sounded so girly that I burst out laughing. He was flushed red with embarrassment and trying to get away from me, but it was very obvious that his cock was harder than ever. And it seemed that the more I giggled, the harder he got.
I already knew he was submissive and we'd played at domination a little bit before. I'd tied him up and spanked him. But never done anything involving feminzation or sissy training. Apparently his fetish for that was too humiliatingly intense to tell me about it. And he didn't want to share it with me now. But his nervous embarrassment was far too much of a turn on for me to let it go.
Next time I had him tied up, I forced panties onto him again as he blushed and begged me to take them off. Then I put stockings and high heels on him too. I teased him and stroked his already stiffening cock through the panties and then took pictures of him showing the little "tent" in his panties. The more he blushed and begged me to stop, the more aroused I got. That was just the first of many sessions of increasingly embarrassing forced feminization for him.
And for me too. So many of you little sluts are conflicted about your feminine desires and need to be coerced into the sissy training you need. But forcing you into becoming my feminized slut is as much of a turn on for me now as it ever was. So proceed carefully when you call me because I just love seducing sissy phone sex callers into giving me whatever incriminating photos or information I need to put the "force" into my plans for your forced feminization. 🙂