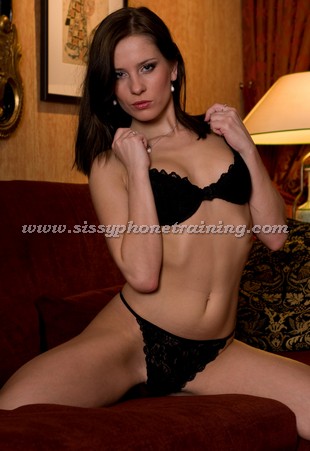 So what is sissy training? Why do you need it? You're probably already dressing up in cute panties, bras, stockings, and nighties. Probably experimenting with make up too. So why should you call me for sissy phone training?
First, the basics. You want to wear that short, tight dress and those hot fuck-me high heels? You need to learn how to walk like a girl, talk like a girl, light your cigarette like a girl. You need to look and act like a girl. Of course, I'll help you with that.
But becoming a sissy is about more than just developing and enhancing your feminine side. More than just learning to move and act and think in a feminine way. I demand more than that from you.
Submit to my sissy training and you'll find I demand extreme femininity. I insist you wear the girliest panties, the frilliest nighties and the highest stiletto high heels. You'll walk with your shoulders back and breasts thrust out and you will roll your hips in a way that would keep any man's eyes glued to your ass. You'll have glossy red lipstick and pink painted toenails.
I demand extreme sexuality as well. Sissy femininity means you must become a total sex object. A submissive sex doll. You'll learn to think of your mouth and pussy as pleasure holes. Develop expert sissy cock sucking skills. Learn to both crave the taste of cum and love the feel of it splashing across your face. Train your pussy to easily take any cock, no matter how large. And always be ready to take any cock, in either of your sissy holes, whether it's my strap on cock or anyone else's cock. Female or male.
Extreme? Yes, but it's what you've always secretly dreamed of, isn't it? That's why you need sissy training. I will push your limits and transform you into the hottest, girliest sissy slut you can be.