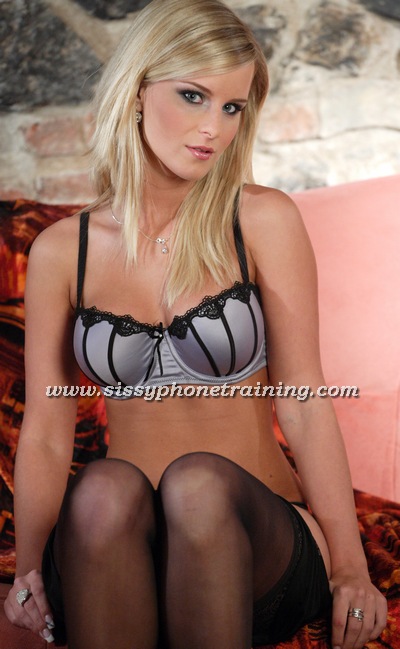 Have you ever imagined what it would be like to be turned into a girl—and then used like one? Some of my sissy phone callers love to be transformed by sissification. The fantasy of a femdom Mistress removing all the trappings of being male and slowly changing them into sissy maids or sissy sluts is so erotic.
Since I love girly things, this kind of sissy training session is always very enjoyable for me. First, I'll have you strip off all those manly clothes—the trousers, belt, boxers, shirt and tie—and stand naked before me. Next, I'll have a look at your body and determine what we'll need to do to make you an acceptable sissy, like shaving off that scratchy body hair, making you nice and smooth, and tucking away that boy cock. Then, it will be time to dress you like the sissy you are—in a lacy bra and silky panties, garter belt and stockings, and high heels if you're a slut, or in a little dress and apron if you're a maid. Perhaps I'll even have you put on some lipstick and a wig to finish your sissy look.
Once you're completely transformed, I will give you a new sissy name—and that's how you'll be known whenever you call to serve me. I'll be sure to pick something pretty and feminine to remind you of your sissy status.
Then you'll be ready to be my good little sissy boy. If you're my sissy maid, I'll have you sit by my feet and massage them, or make me a cup of my favorite tea and serve it to me on a tray. If you're my sissy slut, I'll ask about your behavior and if I find out you've been touching that sissy cock of yours, you'll be put over my knee for a good hard spanking. Once your ass is stinging and red, I might have to bring out my strap-on and show you just how sissies need to be used.
Whatever your fantasy entails, be sure to tell it all to me when you call for our sissy phone sex session. I guarantee I'll take control of you and provide exactly the kind of sissy training you need.