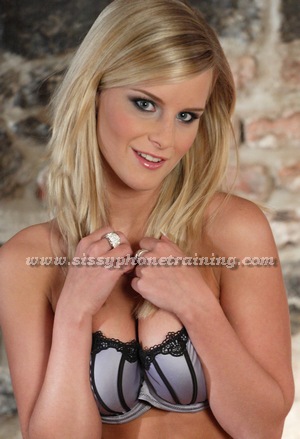 One of my sissy phone callers' favorite things is to hear about taking my sissy to the salon. Of course it's an embarrassing experience, with all the women there staring and giggling, but that kind of sissy humiliation is important for proper sissy training.
The embarrassment begins before you're more than a few feet through the door with the discussion at the front desk between the salon owner and myself. I point out all the waxing, hairstyling and coloring, eyebrow grooming, manicuring and pedicuring that I want done on my sissy. And oh yes, some piercing too — ears, nipples and belly button. She nods with smiling approval, but asks if all the handling of you by the very attractive women on her staff will cause a "reaction" from you. You blush and I laugh as I assure her that will NOT be a problem at all and I show her tiny chastity cage you're locked into.
Naturally she laughs too when she sees it and you blush even more. But I continue, saying that if you do misbehave in any way, she and her staff should just bend you over and give you a good hard spanking on your bare bottom. As she nods again, I hand her a pink paddle that has your name on it.
Want to hear what happens next? Is this the kind of sissy humiliation that makes your clitty tingle when you fantasize about being in the hands of a sissy training Mistress? Good! I'm Mistress April. Just pick up the phone and call me and I'll explain all about my personal style of humiliating sissy phone training.