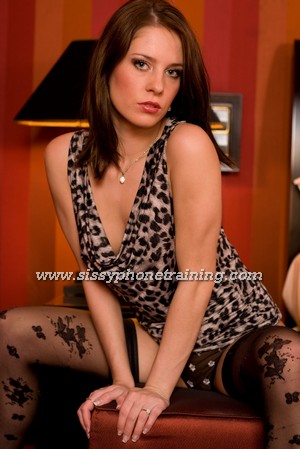 I think my favorite sissy phone calls are the sissy strap on training calls. There aren't many things that can make you feel more like a slutty girl than sissy strap on training.
Put on your girliest panties, get on your knees and imagine me rubbing my strap on cock all over your face. I'll tease you with it, running it over your slick, glossy, lipsticked lips, and tell you what a good sissy cocksucker you are. I want you to run your tongue all around the shaft of my cock, press your lips to the head of it, show me how badly you want me to fill your mouth with it. I know you want it but I like to hear you beg for it. Take it deep, all the way back into your throat. Gag on it for me. You want to be my very best sissy cocksucker, don't you?
But strap on sissy training won't stop with your mouth. I am going to fill and stretch and fuck your sissy pussy too. I'll put you on your back with your legs spread and make you moan like a slut as I pinch your nipples and rub my strap on cock back and forth over your pussy. You'll be a good little sissy slut and beg for every inch of my cock in your sissy pussy too. Sissy strap on sex is the only kind of sex you'll get, and the only kind you'll want, from now on.
Are you feeling a tingle in your pussy just from reading this? Naughty girl! Call me right now for a personalized sissy phone sex training program.