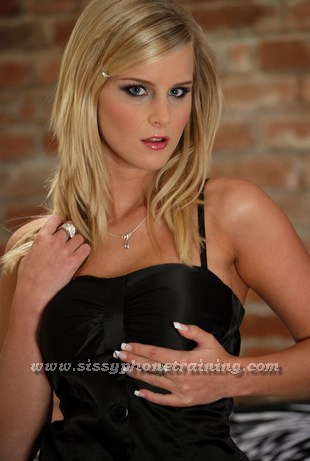 Almost every one of my sissy phone sex callers who has a Mistress or a wife is a cuckold sissy. But that's not too surprising, is it? After all, a Mistress who enjoys sissy training probably also enjoys things like sissy humiliation and sissy cocksucker training. If you were my sissy, you'd learn very quickly that although I may enjoy dressing you up in your panties, stockings and high heels and then outlining your mouth with lipstick, when I want sex, I want it with a real man.
You would beg to be allowed to watch me being fucked by a macho alpha male, wouldn't you? You'd beg for it no matter how many humiliating conditions I put on being allowed that privilege. The humiliation of being forced to wear your frilliest, pink sissy panties in front of my lover. The humiliation of watching him smirk as I lock your little cocklette into a chastity cage, then hand him the key. And I hope you like cuckold creampie because you would definitely be ordered to lick me clean afterward.
I might even make you endure the most intense cuckold sissy humiliation of all — being my cuckold fluffer. Just think how humiliatingly exciting to be on your knees, in your girly panties and your mouth slick with bright red lipstick, as I put one hand on your head and my other hand guides his cock between your lips. It will get me even more excited to listen to you gagging on his big, manly cock as your mouth works hard to get it ready to fuck me the way you never could.
Just thinking about this makes your little clittie hard, doesn't it? I love sissy phone sex because sissy humiliations like these are a turn on for me too. Call me and let's talk about every humiliating detail of making you a cuckold sissy.